New Patients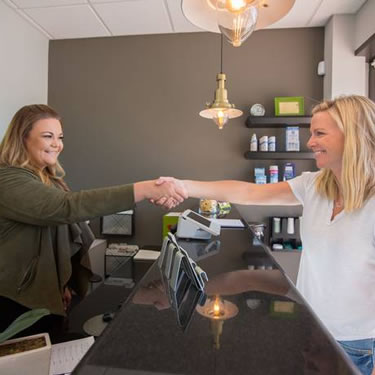 North County Family Chiropractic is a meeting place for like-minded people in our community. When you walk in, you'll be greeted by our warm, friendly team. Aromatherapy is diffusing, and we have a family-oriented environment, making it comfortable, inclusive and healing for all.
NEW PATIENT PAPERWORK »

Your First Visit
We'll begin by reviewing your symptoms, health history and lifestyle with you. You'll learn what we're looking for during the evaluation process, which includes a posture analyzation, palpation and nerve system scans. If the new member is an adult, we may take X-rays, which we'll need time to review. Otherwise, we'll discuss the findings with you, talk about a plan of action and give you a chiropractic adjustment. In total, this visit takes about 30 minutes.
New Patient Specials
We're currently offering special pricing to new patients. A full exam including nerve system scans and x-rays (if necessary) is only $70. We also offer a first time massage special of a one hour massage for $77, or Full Exam and First Massage Combo for only $130. Be sure to mention that you'd like to take advantage of one of these special offers when you make your appointment.
Following Up
If you had X-rays taken, your adjustment and report of findings would wait until the second visit. We'll also detail the results of your X-rays and what they mean to you.
Your routine visits will take only about five minutes. We'll do regular progress checks throughout your care, which take about 20 minutes. You'll have scans retaken and measure the changes that have been made. We like to say that we don't guess—we test. We'll also give you appropriate lifestyle recommendations that will work for you.
Our Noninvasive Scans
You might be curious as to what the scans we take are all about. They're appropriate for adults and children alike. There are two different scans taken. The first is thermography-based, which detects changes in blood flow that could indicate an imbalance in your nervous system.
The spinal electromyograph scan detects nerve activity from your brain to the spinal muscles. It can tell us whether there is an imbalance on one side of your spine and how your body is adapting to your current stress level.
There is no discomfort involved and no exposure to radiation in getting these scans.
Attend Our Workshops
Our new practice members are welcome to attend our Half Hour to Health workshop. We'll discuss the basics of health, self-care and more. Periodically, we hold specialized workshops on topics such as foam rolling, nutrition, lifestyle management, exercise and other topics. You don't need to be a practice member to attend our informative workshops. Are you interested in finding out more? Contact us today!
CONTACT US »

New Patients | (858) 674-6400